Remember the Tea Party? Those belligerent retirees who don't want health care, or education, or any of that socialist crap? Remember what their rallys and protest presence were like? Screamfests of "Kill Obama" slogans, with a lot of people wearing guns?
So why is it that those morons – packing assault rifles, shrieking murder – get a free pass from the police? Just a handful of fat cops standing around smiling, "observing," dressed for a summer's day.
But the Occupy protesters – non-violent, no guns, no homicidal bellowing about the president – are met with thousands of cops in riot-gear, indiscriminately beating and gassing anyone they like?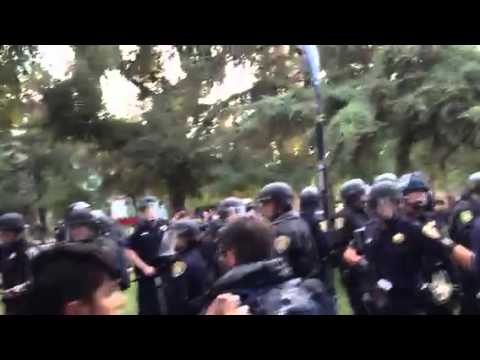 If I was a thinking person, it would make me think.
update: Some thoughts (and much vid) from Garance Franke-Ruta at The Atlantic.
Glenn Greenwald weighs in on the reasons the police are reacting like hippos on meth.
And the silent protest directed at the UC Davis Chancellor: