I'm sitting on a real treasury of spoken word recordings in all manner of formats, and I want to bring some of these to a wider audience than just me, sitting alone in the basement and grinning like a fool. Both my cassette players busted from age, and until I get a replacement for them, and until I get the CD's sorted out and shelved, I'm culling from vinyl, just picking out some favorites.
The first is Boris Karloff (pictured above) reading from Rudyard Kipling's Just So Stories. It's called "The Butterfly That Stamped,"  from "The Cat That Walked By Herself And Other Stories" one of a number of Just So readings he did for Caedmon Records in the early 1960's. I think I have them all on some combination of vinyl and cassette, and I like this LP best because, if I remember correctly, this is the only one that didn't have some sort of musical accompaniment. I believe the latest version of Caedmon has reissued some of these on CD, but I haven't heard it.
Of course, Karloff is best known for his scary creepy horror movies – Frankenstein, The Mummy, and like that.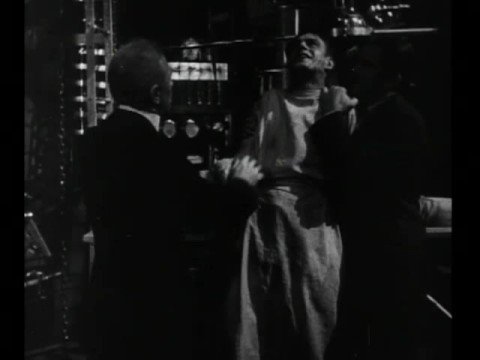 When I bought my first copy of this, I don't remember having any expectations of what it would sound like. I knew it couldn't be some scary reading, and it wasn't very expensive, because who gave a damn about this?, so I wasn't taking a very big chance.
It's fantastic. Karloff reads with an exquisite sense of British sophistication and real understanding of the story, without condescension. It's presented with very little editing (you can hear swallows and long breaths), so you get a real feel for his sense of timing. The slight hesitation on the line "Oh my lady, and jewel of my felicity…" lets you see the raised eyebrow, the quizzical expression. And the dynamics and the certainty of the phrase "He understood everything" always make me smile.
He sounds like the best possible Grandpa.
Directed by Howard Sackler.
Give it a listen. (14 meg download, 15:30, 128k)
And, of course, if there's a hassle with a copyright holder, I'll take the clip down forthwith. I mean no harm.