A few months ago, a friend asked me my opinion as to how the right-wing craziness we're witnessing in this country came about. Unfortunately, I couldn't marshal a coherent response at the time, and fell back into pounding on the table, hollering and cursing. It bothered me that I didn't give him a decent rundown of what I consider the history of mob madness in the US, and I've finally gathered a few examples of a true American tradition – Fear of The Other.
1) The Salem Witch Trials (1600's) (burning of a "witch" pictured above)
One of  the defining examples of the American character, this collective seizure of Puritan colonists in the New World by the hysterical belief of Satanism in their midst truly set the example for what came after. A few pre-teen girls began to have "visions," and were "seized by the Devil," who was summoned to mess with them by…  the people they didn't like. These people were then "tried," tortured, and, usually, burned at the stake.
An American Inquisition, which prepared the way for many movements that came after.
2) Lynching in the United States (1860 – 1960)
Briefly, the Confederate states – after losing the Civil War – had visited upon them the ultimate indignity: Reconstruction, which gave freedmen (former slaves) the rights of human beings. That is to say, desegregation. That didn't go over so well in the South (and still doesn't, to some extent, anywhere in the US), and for about 100 years, any black person in the South accused (not convicted of any crime) of looking at a white woman, whistling at a white woman, touching a white woman, talking back to a white person, refusing to step into the gutter when a white person passed on the sidewalk, or in some way upsetting the local crackers was liable to be hauled from their house or jail cell by a mob, mutilated in a ghastly fashion, hung, and then burnt to a crisp. All governments – state or federal – and their agencies (like the cops) simply ignored this. You could buy picture postcards from proud local merchants of notable area lynchings.
3) The Red Scare and The Palmer Raids (first 1919 – 1920)
Besides an abiding fear of people of color, the greatest mass hysteria in the US has been generated by fear of Communism. Any sort of collective effort by people not in power – the efforts of laboring people to form unions, for instance – has been tarred with the epithet "Communist." Free speech, the right of assembly, the right to privacy, the right to earn a living – none of that stands up in the tide of anti-communist madness. The Palmer raids were essentially the illegal kidnapping and deportation of any "radicals" (i.e.; labor and union leaders) who appeared on a list compiled by the US Attorney General.
4) Japanese American internment during WWII (1942)
After Pearl Harbor, xenophobia towards everything Asian spread through the US, leading to the building of a series of domestic concentration camps for the confinement of thousands of Japanes and Japanese-Americans living on the West Coast of the US. Without trial, these people had their businesses confiscated and their homes stolen (permanently) while they were moved to godforsaken settlements hundreds or  thousands of miles away from their homes.
5) The Second Red Scare (1940's – 1950's) – McCarthyism, Joe McCarthy, and the blacklist
One of the truly wild (and modern) forms of manufactured political hysteria (see what I'm getting at?) was the rise of an alcoholic Senator named Joseph McCarthy after the end of WWII. To condense a long story, the Republican party was fading into insignificance after FDR and the Democrats managed to drag the country out of the Hoover/Mellon Great Depression and then engineered the US victory in WWII. What to do? Joe McCarthy and his never-verified-even-once accusations that the US government had been thoroughly infiltrated by Communists – that's what he said, yo – managed to plunge the country into a cesspool of paranoia and fascism the Republicans exploited to the hilt. Thousands of people – teachers, public workers, anyone really – lost their jobs because they either wouldn't sign "loyalty oaths," or because they wouldn't "inform" on their friends and neighbors, or because someone saw them actually reading a book (it's true).
He was aided in his disgusting efforts by none other than Roy Cohn, who became a famous political fixer and all-around sleazebag in New York. Nixon trailed along after them, waiting for his time in the spotlight.
There's a lot of great stuff on YouTube showing this guy's successful efforts to derail civil society; this is an excerpt from an Edward R. Murrow broadcast on CBS (back when the network wasn't complete trash, if you can believe it) refuting McCarthy's lies: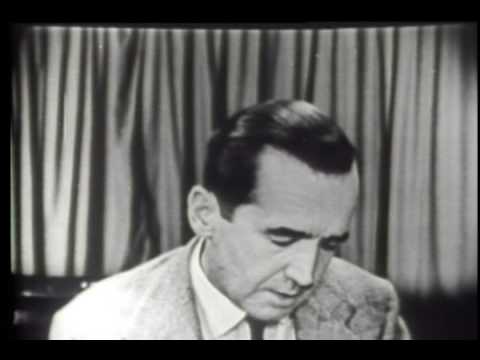 The difference, of course, is that today, rather than stand up to this pig, the networks would be in a bidding war to hire him as an "analyst." His spirit hovers over Fox; in fact, Glenn Beck is channeling him.
6) Satanic Day Care Scandals (1980's)
In a situation with certain distinct resemblances to the American witch trials (see #1, above), some day care providers in the US were, during the 1980's, accused of abusing children in satanic rituals. Their accusers? Children who had been coached by traveling "experts" to "remember" satanic child abuse by day care centers. No cross-examination of the children was allowed; most of them weren't even present in the courtrooms. A national moral panic, fueled by trash like the book above and dozens of unbalanced fundamentalist parents ensued. Trials were held all over the US. One trial, the McMartin preschool trial, turned into the most expensive criminal trial in US history.
Was there satanic abuse? Hell no. Almost all of the people accused were acquitted, and successfully sued their accusers for millions of dollars in damages and settlements. But the newspapers and TV networks reported this garbage with straight faces, in the same "he said – she said" fashion they report any accusation today.
So this is by way of apology to my friend. I couldn't organize my thoughts so many months ago when he asked me my opinion, and it's been bothering me ever since. I suppose my point is that the haters in right-wing media, Sarah Palin, and the Tea-Partyers are part of a long American tradition of hysterics. What they say and believe elevates illogic, patriotism, hatred, paranoia, and fundamentalist religion over democracy and reason. That's the way hysteria works, and it's a basic part of The American Way.
_______________________________
Addition:
Paul Krugman's column on "Pretending To Be Crazy As A Career Strategy."
.